rustic, uncompromising, natural wines.

Brutus
Red Brutus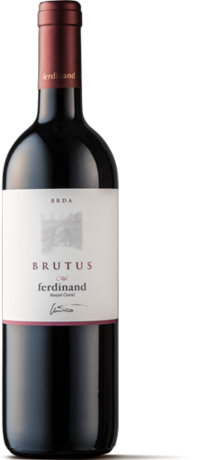 Description
Blend from selected grapes of Merlot and Cabernet Sauvignon. Only in best vintages.
Colour: deep ruby red
Aroma: complex, concentrated aroma of plum marmalade and tobacco, graphite, earthy scent
Flavour: wine with full, intense fruit taste and well balanced, solid tannins that give it longevity
Recommended with: modern cuisine of full flavours. Great with game, red meat dishes, mature cheeses
Best served at: 18°C
Method of production
Vineyard: Pročno
Soil: Opoka (marl and sandstone)
Canopy training: simple guyot, 3,500 vines/ha
Yield: 3,000 kg/ha
Vinification: Brutus Red is a big wine, made from 90% Merlot and 10% Cabernet Sauvignon. The grapes are grown in our two best vineyards with very low yields, hand picked, de stemmed and left to macerate for 3-4 weeks. The fermented wine is decanted into 225 litre barrels, where biological deacidification is completed, giving the wine a certain softness and elegance. Brutus Red stays in French oak barrels for minimum 24 months. The wine is bottled unfiltered and unfined.
Parametri vina
Alcohol level

15,0%

Acid

5,70 g/l

Sugar level

Dry

Region, State

Goriška Brda, Slovenija

Vintage

2018

Wine color

Red

Sort

Cabernet Sauvignon,

Merlot