Classical wines
Pinot grigio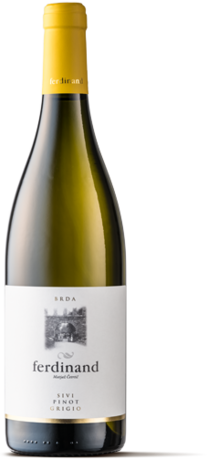 Description
Colour: straw yellow with a copper reflection
Aroma: gentle herbs with ripe pear and fresh acidic apple aroma, mushroms, butter
Flavour: fresh wine with the full flavour of fresh fruits long after it opens
Recommended with: perfect as an aperitif or with fish, pasta or white meat
Best served at: 10°C
Method of production
Vineyard: Birša
Soil: Opoka (marl and sandstone)
Canopy training: simple guyot, 4,500 vines per hectare
Yield: up to 6,000 kg/ha
Vinification: hand picked grapes are de stemmed, crushed and gently pressed. The must is cooled to 10°C. After settling for 24-hours, clear must is racked into stainless steel tanks for fermentation, followed by quick decanting to preserve the fruitiness of the wine, causing no biological deacidification. The wine is bottled in the summer of the year after the harvest.
Parametri vina
Alcohol level

13,0%

Acid

5,40 g/l

Sugar level

Dry

Region, State

Goriška Brda, Slovenija

Vintage

2022

Wine color

White