rustic, uncompromising, natural wines.

Brutus
Ribolla gialla Brutus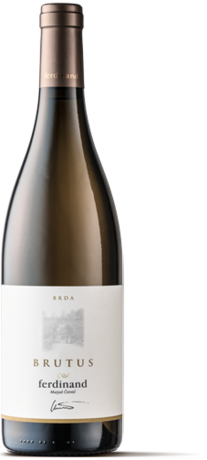 Description
Colour: deep gold, hint of orange
Aroma: complex aromas of dry white fruits, apricot, spice, chamomile, basil, pine resin
Taste: wine with an intense, specific, characteristic fruity taste and tannins
Recommended with: white meat, pork, veal, matured cheeses or on its own for meditation
Serving temperature: 14-16°C
Method of production
Vineyard: Kalehe
Soil: Opoka (marl and sandstone)
Canopy training: simple guyot, 4,000 vines/ha
Yield: 3,000 kg/ha
Vinification: selected hand picked grapes are de stemmed into barrels where berries are left in must that starts to spontaneously ferment with the wild indigenous yeast culture. After fermentation we refill the barrel and leave the berries in contact with the wine until the next harvest (for 12 months). Only then is the wine separated from the berries and further matured in a barrel for another year. The wine is bottled unfiltered and unfined.
Parametri vina
Alcohol level

12,5%

Acid

5,72 g/l

Sugar level

Dry

Region, State

Goriška Brda, Slovenija

Vintage

2019

Wine color

White