a recognisable personal note from the prominent mineral character of the terroir

Época
Amber Gris Época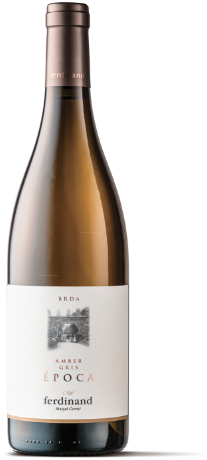 Description
Colour: Medium amber colour, reminiscent of dry onion skins, a slight hazy note.
Aroma: The bouquet is intense, clear and clean, defined by a distinctive aromatic profile which does remain typical for the varietal and is pleasantly aromatic. Reminiscent of ripe apple, ripe pear, a hint of smokiness from the oak cask maturation, and a touch of nuttiness.
Flavour: Dry on the palate, full bodied, moderate acidity and a clear tannic grip. The aromatic profile is lively, almost explosive, rapidly spreading the aromas to every last corner of your mouth. Persistent and pleasant, opulent and warm, but never too warm. Heaps of taste and character, a true gourmet wine. A top notch, textbook example for style.
Recommended with: It best accentuates Asian or other spicy cousine.
Served at: 12-14° C
Method of production
Vineyard: Birsa
Soil: Opoka (marl and sandstone)
Canopy training: simple guyot, 4,000 vines per hectare
Yield: up to 6,000 kg/ha
Vinification: Selected hand picked grapes are de stemmed and crushed. The fermentation takes place spontaneously. After 7 days of maceration the wine is racked in 500 litre oak barrels where ends the fermentation and matures on fine lees for another 12 months.
Parametri vina
Alcohol level

14,5%

Acid

4,72 g/l

Sugar level

Dry

Region, State

Goriška Brda, Slovenija

Vintage

2021

Wine color

White